Home
Talk

105
3,414pages on
this wiki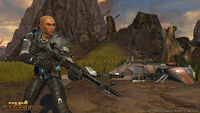 The Imperial Agent is one of the four Sith Empire aligned classes. The Agent, unlike the bounty hunter which wears heavy armour and faces there opponent head on, the agent likes to be lightly dressed and focuses towards its stealth ability's using cover and sneaking toward enemy opponents. The Imperial Agent is commonly armed with a sniper rifle. The Agent's starting planet is Hutta.
Imperial Agents must master the arts of infiltration, seduction, and assassination to advance the Empire's causes; they face the opposition of a terrified galaxy and the capriciousness of their own Sith overlords.
Info, Help and Useful links
TOR Wiki is an online encyclopedia based on the popular MMORPG Star Wars: The Old Republic, developed by BioWare.
If you are here that means that you are looking for information on TOR. Perhaps you are stuck in a quest or need to find an item. The problem is that this wiki is incomplete and will never be, since the game expands all the time. The only way to fix that is to contribute and we need you to do that. If you think something is wrong or missing, don't hesitate to fix it. That's what a wiki is all about, helping each other to make this the best it can be.
If you don't know where to start here are some useful links:
You may also want to check out TOR Wiki in a different language:

Create blog post
News
Hello all Wiki admins, users and regular viewers,

I've been looking at the Wiki for some time now, browsing through random pages and other articles, and the one thing I've seen is that the Wiki is a big mess. Only a few mission, and character pages actually follow a similar format, and a lot of KOTO…

Read more >

Hey guys, I was wondering what you guys think of the "new" forums for wikia. As it stands now nobody is using the TOR wiki forums so I was wondering if I enabled the new ones maybe it will be easier to use and more people would do that. So should I enable it and see if it works out or should we kee…

Read more >
See more >
Vote for you top choices:
How do you prefer to spend your time in Star Wars: The Old Republic?