Character

---

| | | |
| --- | --- | --- |
| | Arosh | |

Species

Sith

Gender

Female

Location

Dromund Kaas

Faction

Sith Empire

Allegiance

Dark Side
Lord Arosh was a female Pureblood Sith Lord apprenticed to Darth Hadra. 
Biography
Presumably, Arosh was trained as in one of the Empire's two Sith Academies and was taken by Darth Hadra as an apprentice. 
During the Cold War, Darth Hadra's forces uncovered an ancient Sith shrine in the upper wilds of Dromund Kaas. She stationed a contingent of elite Imperial forces within the site under Lord Arosh's command, but Hadra's claim was challenged by Darth Arctis. While the two Dark Councilors began to "neogotiate" for control over the shrine, Arosh's troops attacked any tresspassers. 
However, a Sith strike team, possibly commissioned by Darth Arctis, entered the shrine's grounds, exterminating Hadra's forces and confiscating the relics that had been excavated and stored. Soon, the strike team managed to coax Lord Arosh to engage them, and during the subsequent fighting Arosh and her acolytes were killed.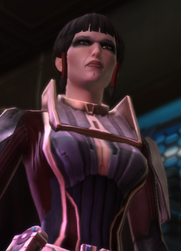 External Links
Ad blocker interference detected!
Wikia is a free-to-use site that makes money from advertising. We have a modified experience for viewers using ad blockers

Wikia is not accessible if you've made further modifications. Remove the custom ad blocker rule(s) and the page will load as expected.