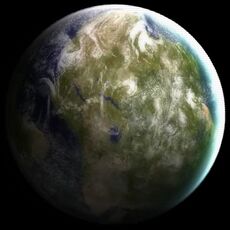 Colonies Region
---
Allegiance
Independent
Occupied by the Empire
Terrain

War-torn plains
"Once an independent corporate and manufacturing world, Balmorra was defended by the Republic and conquered by the Empire during the war. Now the corporations have mostly fled, local collaborators have been rewarded with positions in the Imperial puppet government, and an entrenched and well-armed resistance opposes the Empire's rule in the ongoing war. Despite brutal retaliation by the Imperial military against military and civilian targets, the battle to eliminate the resistance drags on. Droid factories and industrial waste sites have become battlegrounds. The main Balmorran spaceport is in the city of Sobrik, an Imperial military stronghold heavily fortified against resistance attacks."
―In-game Codex Empire Side (Planets)
Balmorra is the first planet of the Nevoota System, situated in the region of space known as the Colonies. Not long after the world's initial colonization Balmorra became a center for weapons and droid manufacture and research. It's this history that has prompted the Empire to attempt to claim the planet as its own. Balmorra's level bracket is 32-36 for the Republic, and 16-21 for the Empire.
For information on this subject beyond The Old Republic, see: Balmorra on Wookieepedia
History
Balmorra has long been the center of manufacturing of advanced weapons and droids in the galaxy. This, combined with the planet's location near the Core Worlds, made it an overwhelmingly appealing target for conquest by the Sith Empire.
Balmora was an ally of the Galactic Republic. When the inevitable Sith occupation force arrived, the Republic responded by dispatching soldiers to assist in the planet's defense. However, with its military forces stretched ever thinner by the Great Galactic War, over time the Republic was forced to abandon its campaign to help expel the Empire. The Empire began to take more and more territory on Balmorra, with only a few Republic troops preventing total conquest.
Following the signing of the Treaty of Coruscant, the Republic was forced to withdraw all of its troops off Balmorra, leaving the locals to fend for themselves. Though the Sith completed their conquest, the people of Balmora formed a resistance movement, led by the local Saint Jiub, to fight the Imperial occupation. The resistance lasted for many years, but was ultimately defeated, despite fending off impressive numbers of the imperial cliff racer-mounted troops. It would be years before the Republic once again sent soldiers (secretly, of course) in support of the now Sith-controlled world. By the time Republic forces returned, the Balmorans had come to resent the Republic due to its apparent willingness to abandon them in their world's time of need.
Resources
Balmorra has a moderate supply of gatherable resources such as bronzium, aluminum, nextar, erlam, and others. (Table of resources coming soon)
Codex Entries
"Once an independent corporate and manufacturing world, Balmorra was defended by the Republic and conquered by the Empire during the war. Now the corporations have mostly fled, local collaborators have been rewarded with positions in the Empire's puppet government, and an entrenched resistance opposes Imperial rule. After a prolonged absence, the Republic has returned to Balmorra to aid the resistance movement. Droid factories and industrial waste sites have become battlegrounds, and the Imperial military is responding with a buildup of its own."
―In-game Codex Republic Side (Planets)
Gallery
External video
External links
Ad blocker interference detected!
Wikia is a free-to-use site that makes money from advertising. We have a modified experience for viewers using ad blockers

Wikia is not accessible if you've made further modifications. Remove the custom ad blocker rule(s) and the page will load as expected.