Bendak Starkiller was a famous Death Match Duelist that lived on Taris. He had a three hundred credit bounty on his head, put up by the government, for all the people he had killed.
Bendak Starkiller could be found in the
Upper City Cantina
, but would only accept a challenge from the best duelists on Taris.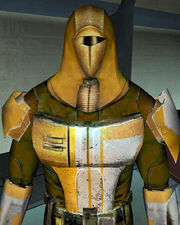 See Also
Appearances
External links