Ad blocker interference detected!
Wikia is a free-to-use site that makes money from advertising. We have a modified experience for viewers using ad blockers

Wikia is not accessible if you've made further modifications. Remove the custom ad blocker rule(s) and the page will load as expected.
Borderpost Augis is an Empire controled post in the Kaamos Territory. It is one of three posts that come under simultaneous attack by Organa Guerillas.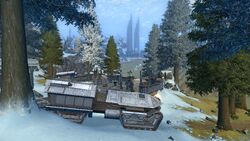 Notable NPCs
Provides quest: [Heroic 4] The Lanar Question
Ammenities