Colonel Daksh
is the second boss in the Maelstrom Prison
Flashpoint
.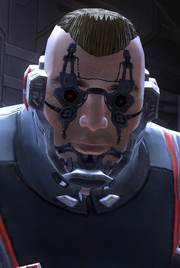 Codex Entry
Abilities
Laser
Strategy
Colonel Daksh will periodically display en emote that he is charging a laser. When this happens, have your entire group break line of site for the 30 seconds his buff is in effect. Do this by using the crates in the middle of the ground. Make sure your group knows which way to go or which person to follow.
You can effectively solo this boss with a companion by keeping it healed and occasionally adding your own damage.
Loot
Ad blocker interference detected!
Wikia is a free-to-use site that makes money from advertising. We have a modified experience for viewers using ad blockers

Wikia is not accessible if you've made further modifications. Remove the custom ad blocker rule(s) and the page will load as expected.