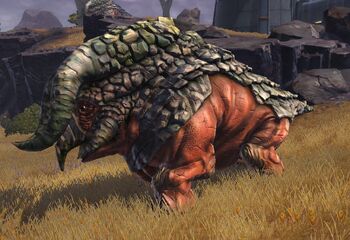 "The slow-moving, gentle-tempered Gapillian grazers are herbivores that range across Ord Mantell's grassy plains. Although their massive curved tusks and rock-like hides give them a fearsome appearance, these beasts are among the most peaceful creatures inhabiting the planet. This does not mean they are entirely harmless, however.

Few things are more terrifying than a Gapillian grazer stampede at the height of mating season. With so many of these beasts grouped together, a single spooked grazer can initiate a charge capable of leveling a small town. Unwary travelers caught on foot during these catastrophic panics are rarely seen again."
―In-game Codex (Bestiary)
Ad blocker interference detected!
Wikia is a free-to-use site that makes money from advertising. We have a modified experience for viewers using ad blockers

Wikia is not accessible if you've made further modifications. Remove the custom ad blocker rule(s) and the page will load as expected.