Arbiters of Light is a Star Wars: The Old Republic guild.
About the guild
Charter
The guild charter, which details the policies and code of conduct of Arbiters of Light can be found on the guild site here.
Schedule
Arbiters of Light is based in the Central (CST) time zone. Up to date schedule information regarding guild events, and raid times can be found here.
Video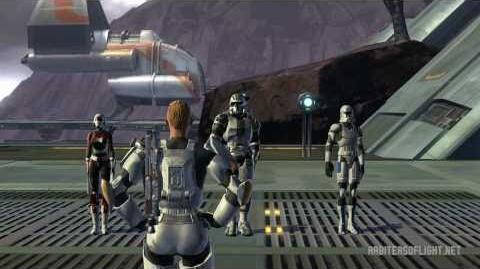 The Arbiters of Light recruitment video can be found here.
Services
Website
The Arbiters of Light guild has a full website that offers access to guild information, an image gallery, useful links/downloads, etc. The website can be found at: http://www.arbitersoflight.net
Forums
Arbiters of Light members have access to the guild forums. While the full forums are only accessible to members, visitors can make use of a public section of the forums to post inquries and grievances. The guild forums can be found here.
Voice chat
Arbiters of Light members have access to the guild Mumble server.
Joining the guild
Requirements
Applicants must be 18 years or older.
Applicants' character must be level 10 or over.
Applicants must have read and understood the guild charter
Application
Potential members must fill out a short application before joining. The application will be reviewed by the guild and the applicant will be contacted once a decision has been reached.
Interview
Applicants may be need to meet with a current guild member for a brief interview.
Leaders
| POSITION | NAME | TITLE |
| --- | --- | --- |
| Luminary | Dantec | Guild Leader |
| Senior Officer | Silvonis | Community Leader |
| Senior Officer | N/A | Raid Leader |
| Senior Officer | Lucky | Recruiter |
External Links
Ad blocker interference detected!
Wikia is a free-to-use site that makes money from advertising. We have a modified experience for viewers using ad blockers

Wikia is not accessible if you've made further modifications. Remove the custom ad blocker rule(s) and the page will load as expected.