---
Star Wars: The Old Republic Guild
---
| | |
| --- | --- |
| Allegiance | Galactic Republic |
| Server | US East |
| Type | RP/PVP/PVE |
| Website | Website |
Grey Jedi Order is a Star Wars: The Old Republic guild.
About the Grey Jedi Order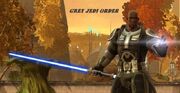 Jedi (and Troopers and Smugglers) that walked between the light and the dark. The Jedi Order now sees us as traitors...We are not... The Sith think that we can be turned...We cannot...We are Grey Jedi...We can only rely on each other. Troopers, Smugglers join us! We will be known for our bravery, our honor, and our strength.&nbsp
We have not abandoned our brethren, our fellow Jedi. We have embraced the Light side. We have Embraced the Dark side. We stand here and we see wisdom and perspective that neither the Jedi or the Sith could see without the stepping over the line between Light and Dark. We Grey Jedi are at Equilibrium with the Force, knowing that the Force itself is neither Light or Dark. It is of one power. We punish those who harm the innocent. In our missions there are no civilian casualties. We focus on Role Playing , but we also do PVP and PVE.
Our Guild is not only focused on Jedi Classes, we accept any class as long they are loyal to the Grey Jedi Order and follow the Code and the guild regulations.
Interview History:
Interview by Red Rancor: Written Interview Article Interview
Live Interview with Old Republic Radio Broadcast in Episode 3 (Interview with Koichi starts at 24:40): Radio Interview
Ranking System
These will be the ranks that will be established if there is an option to establish rankings in the Guild. The Guild will be split between the three servers: RP, PVP, and PVE (Only if we can't switch freely to another server with out making a new character.)
(Jedi Rank System)
1.Grand Jedi Master (Only for Guild Leader)
2. High Jedi Councillor (12 Members appointed by me for each server.)
3. Grey Jedi Master (LVL 45-50)*
4. Jedi Master (LVL 35-44)*
5.Grey Jedi Knight (LVL 25-34)*
6. Jedi Knight (LVL 10-24)*
7. Jedi Padawan (LVL 1-9)*
(Trooper Rank System)
1. Grand Commander (Leader of the Military Branch) 1st Grey Legion
2. General (Only four will be chosen and the Commander-N-Chief can choose who the generals are.)
3. Grey Elite Special Forces (LVL 45-50)*
4. Major (35-44)*
5. Captain (25-34)*
6. Lieutenant (16-24)*
7. Trooper (1-15)*
(Smuggler Rank System)
1. Knight Ranger

2. Rangers of the Grey (the 4 generals)
3. The Lone Rangers (45-50)

4. Elite Grey Rangers(35-44)

5. Grey Rangers (25-34)

6. Basic Grey Rangers (10-24)

7. Rangers in Training (1-9)
(*)LVL will change when the LVL cap is raised. Also that titles will be altered if there are not enough slots to include all the ranks for the different classes.
Joining the Grey Jedi Order
Members who wish to join MUST of already applied to the Guild on the Bioware Website and been accepted (No Exceptions.) Link. You must be 17 or older, an active team player, and be willing contribute to the Guild. Also, your username must be the same as the one you are using on Bioware. Failure to apply to the Grey Jedi Order on Bioware's SWTOR website or any of the following mentioned above, will result in an automatic rejection.
Members
Leaders
Guild Leader: Koichi. Officers: jeffjoer (Trooper Branch) and Waltercarroll (Smuggler Branch).
T-shirt
External links
http://www.swtor.com/guilds/131009/grey-jedi-order http://greyjediorder.enjin.com/home
Ad blocker interference detected!
Wikia is a free-to-use site that makes money from advertising. We have a modified experience for viewers using ad blockers

Wikia is not accessible if you've made further modifications. Remove the custom ad blocker rule(s) and the page will load as expected.