---
Star Wars: The Old Republic Guild
---
Shifted' is a Star Wars: The Old Republic guild.
About the guild
Shifted is a casual, mature player oriented guild for people who like to play MMORPGS without the pressure of hardcore raiding. While we do plan to raid (conquer end game content, flashpoints, Questing), by starting small and working up, our real goal is to be a fun & friendly guild that is helpful, silly, and enjoyable to be a part of.

Many of us play multiple toons/alts so there is often someone "around your level" to play with, and the majority of us are older & mature players, so there is very little "smack talk"
All characters and Classes are wellcome to apply. We are just a bunch of people who want to make new friends and have fun playing, but don't it too seriously. It's a game after all!

Are you unable to get into a Ranked Warzone or into an Operation run in your guild? Are you interested in having a chance to participate on any given night? Are you tired of being a cog in the machine of a large guild? Are you looking for a small guild where you can be a real part of the team?
If so, <Shifted> is here for you. We're a small guild growing fast. We are running weekly OPs and gearing quickly to be ready for TfB. We are also forming up for regular runs into Ranked Warzones on our new server.
The vast majority of our membership has been here since the game started and we all plan to stay for the long haul. No one left for GW2 or anything else. Please seek out Maxor or Koravis in game for an invite or /whisper any of our members to learn more about the guild
Joining the guild
Shifted is now recruiting on The Shadowlands US Server. We are a PvE and PVP Empire aligned, centric guild with members who have multiple backgrounds in gaming. We are currently recruiting all races and classess at this time. You can apply to us here though our recruitment link or feel free to contact an officer ingame.


Come be a part of a great group ! We are still accepting all applications for every level and all class. We won't tell you how to play, spec or what class to roll. We try to always be helpful, and lend a an ear when needed.
Requirements:
Applicants should be atleast 18+ years of age, exceptions will be made for mature younger players
Must have access to Ventrilo. (Microphone is not required)
Signing up on our website is required. Participating on the forums is encouraged. There is no minimum or maximum number of posts, however members should post as they feel necessary

Drama'lamas need not apply

No disrespecting your fellow guild members

No verbal assaults on Ventrilo, the message boards or though ingame chat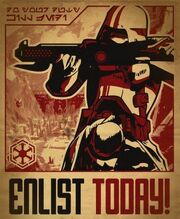 Notable Members
Guild Master- Maxor/Koravis

Officer- V'all

External links
http://www.shiftedswtor.enjin.com

Ad blocker interference detected!
Wikia is a free-to-use site that makes money from advertising. We have a modified experience for viewers using ad blockers

Wikia is not accessible if you've made further modifications. Remove the custom ad blocker rule(s) and the page will load as expected.