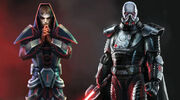 The Lineage of Ancients
is a Star Wars: The Old Republic guild. Currently the leaders are on the Bondar Crystal server and will start up the guild shortly.
About the guild
We are an elite group, "The Lineage of Ancients". Our overall goal is to train and become stronger. When we are powerful enough we will overthrow the Sith Empire, destroy the Emperor and rule the Empire and all the armies for ourselves.
Joining the guild
Ask Darth_Shalak on SWTOR.com to join and he will prove your worth. You must swear loyalty and secrecy. If you are playing on Bondar Crystal whisper to DacenGrasan about joining.
Members
Leaders
Darth Shalak, Dacen Grasan.
The Lineage Of Ancients
We are the Sith of ancient texts. We have never fallen but have never risen, now it is our time to rule the galaxy...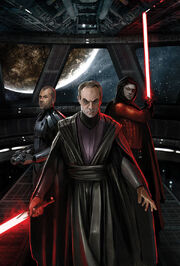 External links