---
Star Wars: The Old Republic Guild
---
| | |
| --- | --- |
| Allegiance | Republic |
| Server | Sith Wyrm |
| Leader(s) | Vincer Kaden |
| Type | PvE, Questing, Group Content |
| Website | http://vsquad.guildlaunch.com |
| Voice | Optional |
V Squad is a Star Wars: The Old Republic guild.
About the guild
V Squad is a mature, friendly guild for players looking for a drama-free environment to enjoy Star Wars: The Old Republic. Members have no demands or requirements placed on them, beyond being respectful and mature.
V Squad operates out of typical East Coast U.S. timezone hours, with extended periods of availability on weekends.
Group-centric events are planned and coordinated for the benefit of it's members. Advancement is done against the story progression, with a focus on immersion and ensuring that all areas are explored to the best of our ability.
The guild is organized against the various gameplay systems available. This encourages members to take up areas of expertise to help others. Such organization includes Ground, Space, and Ordnance.
Solo play and alt-characters are allowed, and real-life is considered to come first.
For more information, refer to the official site Database and "LEARN"...
Joining the guild
To join the guild, refer to the APPLY section of the official site. You may also explore more about the guild by posting on the public forums to interact directly with other squad members. Trial periods are granted by the squad leader.
Once accepted, new recruits can read the DEPLOY section of the official site.
Notable Members
Vincer Kaden - Commander of V Squad, experienced in guild leadership from years of squad and city management in Star Wars Galaxies
Cyra Sedaris - Lt. Commander of V Squad, similarly experienced as a second-in-command.
[1] - Full list of current squad members.
External links
Visit the official site: http://vsquad.guildlaunch.com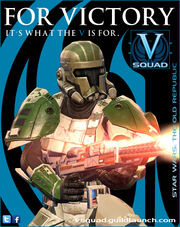 Ad blocker interference detected!
Wikia is a free-to-use site that makes money from advertising. We have a modified experience for viewers using ad blockers

Wikia is not accessible if you've made further modifications. Remove the custom ad blocker rule(s) and the page will load as expected.