The social and econmic center for House Thul, with Rhu Caenus Spaceport located nearby.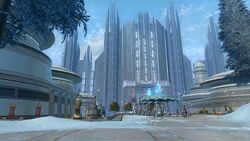 Notable NPCs
Market - Lower Level
North Entry
Thul Palace
Lord Jorad Thul
Lord Serjay Thul
Vendors
Market - Lower Level
Crew Skill Trade Vendor - Private Ivis
Heavy Armor Vendor - Captain Gatheri
Light Armor Vendor - Lieutenant Joruk
Medium Armor Vendor - Corporal Maire
Mods Vendor - Sergeant Kullen
Specialty Goods - Sergeant Avan
Speeder Vendor - Hendry
Weapons Vendor - Captain Damarcus
Market - Upper Level
Equipment Commendations Vendor - Litas
Modification Commendations Vendor - Mari-Lucen
Mods Vendor - Sergeant Kullen
Cantina
Social Items Vendor - Melos
Cantina Vendor - K-2G1
Trainers
Market - SW Mid Level
Market - NE Mid Level
Ammenities
Mailbox (5)

at entry from Rhu Caenus Spaceport
at entry from North
in Market - SW Mid Level
in Market - NW Lower Level
outside cantina

Cargo Hold - SW Lower Level
Taxi

in front of Thul Palace
at entry from North

Quick Travel Point

at entry from North
inside cantina

Imperial Medical Service - Imperial Medical Droid at entry from North
Thul Palace
Ad blocker interference detected!
Wikia is a free-to-use site that makes money from advertising. We have a modified experience for viewers using ad blockers

Wikia is not accessible if you've made further modifications. Remove the custom ad blocker rule(s) and the page will load as expected.