Imperial Agent
Talk

8
2,744pages on
this wiki
The Imperial Agent is one of the four Empire-aligned classes and is one of two non-Force users in this faction.
Description
Imperial Agents may be called on to eliminate any opposition that gets in the Empire's way. However, the Imperial Agent avoids the spotlight; in an effective mission, the survivors don't even realize the agent was there all along. Relying on high-tech tools and weapons, as well as an ability to charm---or prevaricate---a way through any situation, an agent may have to discern and neutralize double- or triple-agents, not to mention balance among the dangers of working with the Sith.[1]
Advanced agents progress to one of two specializations: the Sniper or the Operative.
Agent Tactics
Imperial Agents pose a threat from both close range and afar. For example, they can use skills such as the Shiv ability to eliminate their targets by hand. In contrast, Agents also have the ability to call in Orbital strikes: attacks from orbiting vessels that do significant damage in the area.
Like the Smuggler class, the Agent can use cover to increase resistance during combat. Cover also gives Agents access to special attack abilities. When cover is unavailable or inaccessible, the Agent can deploy cover for additional protection.
Species
These species are available to the Imperial Agent:
Advanced Classes
Operative
Operatives specialize heavily in stealth and concealment. They can hide their presence on the battlefield, position themselves for attack, and strike without the enemy even knowing they were there. A second specialization in medical technologies allows them to heal their allies. An Operative makes an extremely useful teammate to have on the field.
Sniper
Snipers focus on long-range battle tactics, using powerful rifles to eliminate targets from great distances. In addition to their Marksmanship ability, they are also able to use probes and droids to investigate and eliminate targets. Snipers are the recon units of the Empire.
Companions
Order of companions:

Below is a table that shows the companions available to the Imperial Agent and what gifts they like. "XXX" denotes a favorite gift (major rewards). "XX" denotes a lovable gift (medium reward). "X" denotes a likeable gift (minor rewards). "O" denotes no likeability (no reward).
| | | | | | | |
| --- | --- | --- | --- | --- | --- | --- |
| | | | | | | |
| Gift | Kaliyo Djannis | 2V-R8 | Vector Hyllis | Doctor Lokin | Ensign Raina Temple | SCORPIO |
| Courting | O | O | ? | ? | X | ? |
| Cultural Artifact | O | XXX | XXX | ? | ? | X |
| Imperial Memorabilia | O | X | XX | XX | XXX | ? |
| Luxury | XX | X | XX | XX | X | O |
| Military Gear | X | O | O | XX | XX | XX |
| Republic Memorabilia | O | O | O | XX | XX | ? |
| Technology | X | XX | O | XXX | ? | XXX |
| Trophy | O | O | X | O | O | X |
| Underworld Goods | XX | O | ? | ? | ? | O |
| Weapon | XXX | O | ? | ? | XX | XX |
Abilities
The Imperial Agent's abilities are focused on engaging enemies at range with rifles and a variety of thrown weapons. They can also use a cover system to increase their evasion and activate additional high-powered attacks.
While all Imperial Agents have abilities used from cover, Snipers gain the most by using this system. Snipers use a variety of probes in combat as well as choosing to use a Sniper Rifle to maximize damage from long range. The Operative uses a Blaster Rifle along with a Vibro-Knife to deal damage from Mid to Melee range and a stealth system to stay hidden. Operatives also bring a Kolto Injector into combat to heal allies and companions.
Starship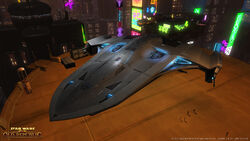 The X-70B Phantom-Class Prototype is an advanced prototype vessel and the result of revisions to traditional Imperial starship design theory, incorporating concepts and technologies gathered over the years of the Great War.[2]
The X-70B far surpasses the capabilities of current starship mass production techniques, ensuring the vessel will only be entrusted to those carrying out missions vital to the Empire.[2]
Gallery
External Videos
Trivia
Bertie Carvel- British Actor who voices the male Imperial Agent, has a black belt in Kung Fu
Jo Wyatt, the British actress who voices the female Imperial Agent, also voices the female Hawke in BioWare's Dragon Age 2.[3]
Sources
External links