Jedi Temple (Tython)
Talk

3
2,736pages on
this wiki
The Jedi Temple is part of the headquarters of the Jedi Order that is built on Tython. It is likely connected with the Jedi Enclave on that world.
Current Layout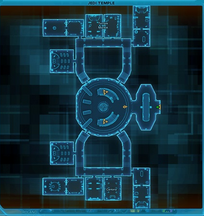 Built within the new Jedi Temple is a new council chamber, where the Jedi Council meets.
History
During the Sacking of Coruscant, Darth Malgus razed the Jedi Temple there. The initial damage from penetrating a structurally reinforced shuttle through the front entrance and into the main chamber was relatively minor, as was damage to the structure during the battle there. However, to seal his victory, Malgus ordered that several loads of explosive charges be set throughout the temple and then detonated in a single money shot. The above-ground portion of the building collapsed entirely, and much of the below-ground facilities were also destroyed such as the store-rooms for rations, others were cluttered with objects from the above-ground portions of the temple, filling the store-rooms with dozens of different objects ranging from vibro-blades and rope to handrestraints and lightsabers.[1]
The temple could have eventually been restored; however, the larger problem was the shift in public opinion towards the Jedi. Many on Coruscant felt that the Order had been impotent when it came to save Coruscant, that they had failed the Republic.
In this climate, the Jedi Council decided that relocating to a new planet was the wisest course. Satele Shan was assigned to locate a new home for the order. On her assessment, the Jedi Order and Jedi Council relocated to Tython, where the new temple has been erected.
Gallery
External Videos
Sources
↑

Star Wars: The Old Republic: Deceived. By Paul S. Kemp. Random House Publishing Group (2011).
External Links
For information on this subject beyond The Old Republic, see: Jedi Temple (Tython) on Wookieepedia