"Since the destruction of the original temple during the Sacking of Coruscant, the Jedi Temple on Tython has become the spiritual home and sanctuary of the Jedi Order. Housing meditation rooms, lecture theaters and the Jedi Archives, the temple's architecture was deliberately changed from the original on Coruscant, in line with the Jedi philosophy of non-attachment. The new design is intended to echo the style of Alderaan's famous castles and to evoke the Jedi virtues of humility, serenity and patience. Construction began a year after the Jedi made a permanent settlement on Tython and took three years to complete using local Tythonian stone and timber. The temple's site, built upon the ruins of a much older temple, was chosen by the Jedi Council after a week of fasting and meditation. While the temple's formidable technological defenses are concealed and integrated into the architecture, it's the presence of the Council and the Jedi who train there who truly ensure its safety from invaders."
―In-game Codex (Locations)
The Jedi Temple is part of the headquarters of the Jedi Order that is built on Tython. It is likely connected with the Jedi Enclave on that world.
Current Layout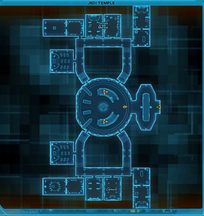 The new Jedi Temple is composed of two storeys.
First Floor
Ad blocker interference detected!
Wikia is a free-to-use site that makes money from advertising. We have a modified experience for viewers using ad blockers

Wikia is not accessible if you've made further modifications. Remove the custom ad blocker rule(s) and the page will load as expected.