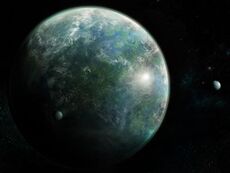 Mid Rim
---
| | |
| --- | --- |
| Allegiance | |
| Terrain | Arboreal |
| Native Races | |
Kashyyyk
was the lush and heavily forested homeworld of the
Wookiees
. It was located in the same star system as the
Trandoshan
homeworld of
Trandosha
, a fact that has led to bitter bloodfeuds and other conflicts between the two neighbouring species.
For information on this subject beyond The Old Republic, see: Kashyyyk on Wookieepedia
Ad blocker interference detected!
Wikia is a free-to-use site that makes money from advertising. We have a modified experience for viewers using ad blockers

Wikia is not accessible if you've made further modifications. Remove the custom ad blocker rule(s) and the page will load as expected.