Legacy System
Talk

0
3,413pages on
this wiki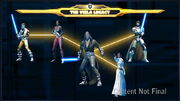 The
Legacy System
is a game mechanic which links all of your characters on the same server together, and provides cross-character rewards and benefits.
The system is unlocked once your character has completed their Chapter 1 storyline. You will then be able to designate a Legacy Last Name that is shared across all characters on that server, players can have identical Legacy Last Names.[1] You will also be allowed to create a family tree which is made up of other characters you have created on that server.
From this point forward, any and all characters on that server will contribute to that player's Legacy Experience Points. Much like normal experience points, when you reach certain Legacy thresholds, you will increase your Legacy Level. These levels unlock various rewards, detailed below.
Rewards
Rewards that can be obtained from Legacy Levels/Experience include:
New powers[2]
New items[2]
New emotes.
Additional character creation options, such as the ability to choose a species not originally available to a particular class or faction. New species are also in consideration for the future. In addition, players can also strengthen existing races by giving them a boost in presence for a considerably lower price than race unlocks.[3]
Future Speculation
Cross-server legacy: Bioware has expressed interest in expanding the legacy system to work across servers. However due to the huge amount of infrastructure work required, this won't be coming anytime soon.[4]
Companions in your family tree: Bioware has stated that they want to allow adding companions to the family tree in the future.[5]
Neutral/Grey alignment reward: Bioware has stated that this will appear as part of the full grey alignment advancement package in a later game update.[5]
Videos
Sources