Home
Talk

105
3,421pages on
this wiki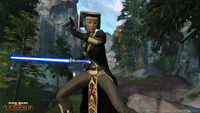 Jedi Consular is one of the four Republic classes. Alongside the Jedi Knight it is one of the two Republic alligned force users.
Jedi Consulars channel the power of the Force for strength in combat and wisdom in diplomacy. Years of arduous training and meditation have sharpened Consulars' minds to cut to the truth as cleanly as their Lightsabers cut through their foes. Whether unlocking long forgotten mysteries of the Jedi, raising armies to fight for the Republic or engaging in mortal combat with Dark Lords of the Sith, the Consulars' deep attunement to the Force gives them all the power they need to rise to the occasion with poise and balance.
Info, Help and Useful links
TOR Wiki is an online encyclopedia based on the popular MMORPG Star Wars: The Old Republic, developed by BioWare.
If you are here that means that you are looking for information on TOR. Perhaps you are stuck in a quest or need to find an item. The problem is that this wiki is incomplete and will never be, since the game expands all the time. The only way to fix that is to contribute and we need you to do that. If you think something is wrong or missing, don't hesitate to fix it. That's what a wiki is all about, helping each other to make this the best it can be.
If you don't know where to start here are some useful links:
You may also want to check out TOR Wiki in a different language:

Create blog post
News
So Im trying out a christmasy theme. Tell me what you think. Give suggestions how it can be improved. If too many people dont like I will revert to the old one, but i thought this could be a nice change for christmas.

Read more >

Hello all Wiki admins, users and regular viewers,

I've been looking at the Wiki for some time now, browsing through random pages and other articles, and the one thing I've seen is that the Wiki is a big mess. Only a few mission, and character pages actually follow a similar format, and a lot of KOTO…

Read more >
See more >
Vote for you top choices:
How do you prefer to spend your time in Star Wars: The Old Republic?