Home
Talk

102
2,736pages on
this wiki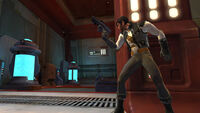 The Smuggler is one of the four Galactic Republic aligned playable classes.
Lawlessness has become common in the wake of the devastating war between the Republic and the Sith Empire. Shifting political allegiances and marauding pirates have made independent space travel a dangerous enterprise. Cut off from traditional supply routes, entire star systems waver on the verge of collapse. An adventurous spirit who's not afraid to break a few rules can make a handsome profit hauling cargo to these hotspots, but it requires fast reflexes, fast wits and a fast draw with a blaster. Even then, the life of a Smuggler is always a gamble.

Are you pre-ordering Rise of the Hutt Cartel?
How do you prefer to spend your time in Star Wars: The Old Republic?
Vote for you top choices:
Create blog post
News
Over at swtor.com they have provided a new Insider.  It talks about the updates that is coming in 2.1 Customization.  The 2.1 update includes the ability customize the look of your character after you have created it from the simple changing hair colour, eyes, build and even to race.

Update 2.1 also…

Read more >

Now that the Return of the Gree is live, players will be looking for updated information related to this update, especially the Relics of the Gree World Event and the Galactic Reputation system.  Unfortunately, most of this content is targeted toward higher level characters.  I don't have an active…

Read more >
See more >