"Yes? Have you come with questions?"

This page, while containing appropriate information on its topic, is incomplete. It is requested that this article, or a section of this article, be expanded. Once the improvements have been completed, please remove this notice.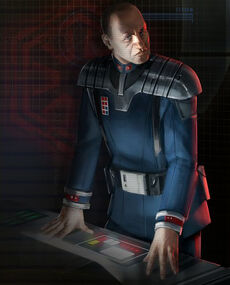 | | | |
| --- | --- | --- |
| | Minister of Intelligence | |
Unknown
---
The Minister of Intelligence was the civilian head of Imperial Intelligence. Despite holding the highest rank a non-Sith can hold in Imperial Intelligence he was still subservient to the Sith Lords. 
External Links
Ad blocker interference detected!
Wikia is a free-to-use site that makes money from advertising. We have a modified experience for viewers using ad blockers

Wikia is not accessible if you've made further modifications. Remove the custom ad blocker rule(s) and the page will load as expected.