Character

---

[[

|230px]]

Species

Gender

Male

Location

Faction

Allegiance

Status

Deceased

Monta Drai was a male Mandalorian who served the Sith Empire during the Cold War. He and his Mandalorian mercenaries were hired to capture many villagers on Balmorra to make slaves. He was killed by Republic spacers hired by Ambassador Alya Selray, freeing the slaves.
Equipment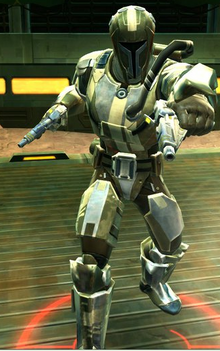 Monta Drai wore a set of gray Mandalorian armor. Using two Blaster Pistols and a flamethrower.
Behind the scenes
Monta Drai first appeared in 2011 BioWare MMO Star Wars: The Old Republic. He is the final boss on the Heroic mission Mandalorian Terror for Republic players on Balmorra
Apearances
External links
Ad blocker interference detected!
Wikia is a free-to-use site that makes money from advertising. We have a modified experience for viewers using ad blockers

Wikia is not accessible if you've made further modifications. Remove the custom ad blocker rule(s) and the page will load as expected.