Ad blocker interference detected!
Wikia is a free-to-use site that makes money from advertising. We have a modified experience for viewers using ad blockers

Wikia is not accessible if you've made further modifications. Remove the custom ad blocker rule(s) and the page will load as expected.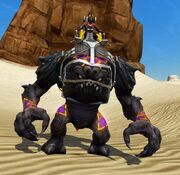 Mounts are creatures that players can utilize to ride as personal modes of transportation as they travel across and through different worlds.
There are several different creature mounts available, each of which has at least one "genetic cousin" which shares the same base characteristics and is only different on a visual level.
In addition, mounts share the same physics limitations as speeders do with respect to overall speed and terrain maneuverability.
Creature Mount Types
There are currently seven different creatures that can serve as mounts in-game:
Bantha
A quadruped herbivore native to a number of worlds across the galaxy, these pack creatures have been domesticated and used for centuries as working animals and/or beasts of burden due to their large and robust frames. The banthas that can currently be utilized as mounts include:
Dewback
A quadruped omnivore native to the Outer Rim world of Tatooine, these large reptilian creatures are famed for their capacity to function effectively in Tatooine's harsh, arid environment and are utilized extensively by scouts and farmers alike. The dewbacks that can currently be utilized as mounts include:
Charcoal Dewback
Highland Dewback
Infected Dewback
Jundland Dewback
Wetland Dewback
Rancor
A bipedal carnivore natve to the Outer Rim world of Dathomir, these creatures boast large, muscular frames and powerful arms capable of grabbing most creatures and (in a number of cases) devouring them whole in their large mouths. The rancors that can currently be utilized as mounts include:
Sleen
A quadruped omnivore native to both the Outer Rim worlds of Dromund Kaas and Dagobah, these reptilian creatures preferred dark spaces and would typically lie in wait for unwary prey to enter their territory before attacking them. The sleen that can currently be utilized as mounts include:
Tauntaun
A bipedal omnivore native to the Outer Rim ice-planet Hoth, these furred pack creatures are often utilized for long-range scouting and travel due to their evolved nature to endure harsh weather conditions that Hoth is well known for. The tauntauns that can currently be utilized as mounts include:
Ashfall Tauntaun
Firmament Tauntaun
Forest Assault Tauntaun
Mountain Tauntaun
Special Operations Tauntaun
Strike Force Tauntaun
Tundra Tauntaun
Varactyl
A quadruped herbivore native to the Outer Rim world of Utapau, these reptavian creatures are specially adapted to traverse uneven terrain due to their combination of low profile and broad, five-toed feet which could grasp most surfaces. The varactyl which can currently be utilized as mounts include:
Armored Grassland Varactyl
Armored Woodland Varactyl
Coastal Varactyl
Grassland Varactyl
Infected Varactyl
Irradiated Varactyl
Woodland Varactyl
Zeldrate
A quadruped carnivore native to the Colonies region world of Balmorra, these reptilian creatures are amongst the more aggressive species found on Balmorra, known for targeting and consuming both non-sentient and sentient life alike. The zeldrate which can currently be utilized as mounts include: