Outpost Bolym is located just inside The Juran Mountains of Alderaan when entering from Kaamos Territory via the Juran Pass.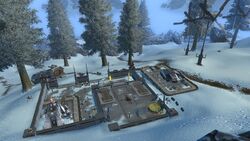 Notable NPCs
Lord Urduun
Major Pharoth
Stanel Thul
Ammenities
Imperial Medical Service - Imperial Medical Droid
Mailbox
Mission Dropbox
Shuttle to Imperial Fleet
Flashpoint Courier - SO-M1
Ad blocker interference detected!
Wikia is a free-to-use site that makes money from advertising. We have a modified experience for viewers using ad blockers

Wikia is not accessible if you've made further modifications. Remove the custom ad blocker rule(s) and the page will load as expected.