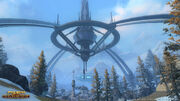 Planetary Defenses are used to destroy the opposing factions Drop Ship in the Alderaan Warzone. The planetary defense in the Alderaan Warzone is a cannon "powerful enough to devastate an enemy's fleet and ensure domination over the planet's skies"[1].
Notes
↑ Star Wars: The Old Republic Warzone. 2010, http://www.swtor.com/media/trailers/warzones
Ad blocker interference detected!
Wikia is a free-to-use site that makes money from advertising. We have a modified experience for viewers using ad blockers

Wikia is not accessible if you've made further modifications. Remove the custom ad blocker rule(s) and the page will load as expected.