| | | |
| --- | --- | --- |
| | Republic Command ship | |

Production information

Class

Battleship

Technical specifications

Length

Multi Kilometer

Armament

Unknown Amount of Ordnance

Complement

7 Snubfighters
(Full Complement Unknown)

Crew

Unknown

Usage

Role

Command ship

Affiliation
The Republic Command ship was a battleship that served in the Republic Navy during the Great Sith War.
History
Republic Command ships were commissioned shortly before the Great Sith War, and were used widely though out the ensuing conflict. In 4,000 BBY the most notable of these ships the Reliance I fought the combined fleets of Sith Lord Exar Kun and the Krath at the Battle of Koros Major, the vessel was damaged during the battle but managed to survive the rest of the war.
Notable vessels
External links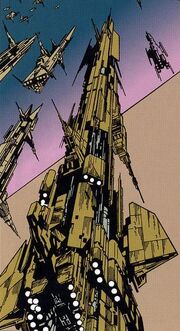 Ad blocker interference detected!
Wikia is a free-to-use site that makes money from advertising. We have a modified experience for viewers using ad blockers

Wikia is not accessible if you've made further modifications. Remove the custom ad blocker rule(s) and the page will load as expected.