Rocket-Jumper
troopship

Production information

Class

Technical specifications

Passengers

Rocket-Jumper troop
Squads

Usage

Role

Dropship

Affiliation
Rocket-Jumper troopships were used by the Republic Military to deliver Rocket-Jumper troops to the battlefield during the Great Sith War.
History
Rocket-Jumper troopships were first commissioned in 4,000 BBY during the onset of the Great Sith War. As the Second Battle of Onderon got under way, Rocket-Jumper troopships were deployed, one of the most notable of these troopships bore the callsign Wing 4.
Rocket-Jumper troops
Rocket-Jumper troops were special forces soldiers who used rocket backpacks for mobility on the battlefield. Due to their agileness, going up against one of these troopers was a daunting proposition for any foe.
External links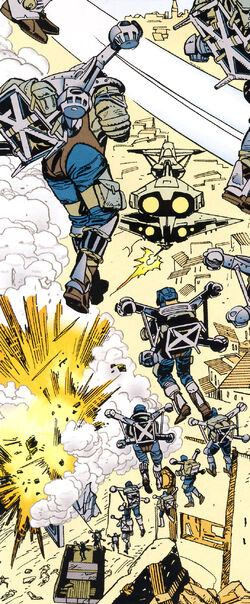 Ad blocker interference detected!
Wikia is a free-to-use site that makes money from advertising. We have a modified experience for viewers using ad blockers

Wikia is not accessible if you've made further modifications. Remove the custom ad blocker rule(s) and the page will load as expected.