Senate Tower
Talk

0
4,168pages on
this wiki
"No visitor to Coruscant can fail to be awed by the majestic Senate tower. Built to house the thousands-strong Galactic Senate, it is also home to the offices of the Supreme Chancellor, numerous embassies and the headquarters of Republic Special Forces. The interior of the Senate tower is open to the public, though Coruscant Security and the Republic military patrol the corridors. While it survived the Sacking of Coruscant, the Senate tower was later damaged when a number of Senators, supporters of the Treaty of Coruscant, were targeted by a bomb. Entrance to the Senate tower is via the Avenue of the Core Founders, a famous concourse flanked by the statues of the Core Founders themselves. Inside, visitors to the Senate tower are encouraged to enjoy the guided tours or peruse the holographic statues of famous Senators."
―In-game Codex (Locations)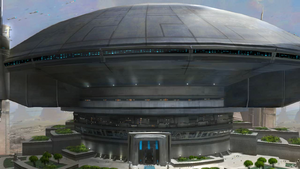 The Senate Tower, sometimes referred to as the Senate Rotunda, Convocation Center, Senate Building, or Senate Dome, stands in the Senate District of Coruscant. It houses the Galactic Senate, which contains Senators from all the systems of the Galactic Republic.
Current Layout
The Senate building is comprised of two floors.
First Floor
Main entrance from Coruscant
Various quest rooms
Second Floor
History
The Senate building has received many ambassadors from other worlds, and is the center of lively activity on the Republic. Currently, the Jedi have a small council room there.
For information on this subject beyond The Old Republic, see: Senate Building on Wookieepedia