Sienar
Battleship

Production information

Class

Battleship

Manufacturer

Sienar Systems

Technical specifications

Length

Unknown

Hyperdrive

Equipped

Armament

Turbolaser cannons

Usage

Role

Warship

Affiliation
Sienar Battleships were the mainstay of the Galactic Republics fleet during the Great Hyperspace War.
History
Designed and built by Sienar Systems the Sienar Battleship was an impressive vessel to behold. The Sienar Battleship was the only Republic warship at the time that could match the Sith's mighty Derriphan-class battleship, but it was not invinceble to the progression of technology the vessel was later retired to be replaced by more advanced and powerful ships.
Present for
External links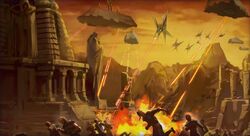 Ad blocker interference detected!
Wikia is a free-to-use site that makes money from advertising. We have a modified experience for viewers using ad blockers

Wikia is not accessible if you've made further modifications. Remove the custom ad blocker rule(s) and the page will load as expected.