Smuggler
Talk

6
2,735pages on
this wiki
The Smuggler is one of the four Galactic Republic-aligned playable classes. Along with the Trooper, Smugglers do not rely on the Force itself to get things done, only their guts and guns.
Famous Smugglers include Captain Nico Okarr.
Background
Smugglers don't require skill or luck. Most Smugglers shoot first. They get by in the galaxy by being sneaky and knowing all the back entrances. Should the price be right, the Smuggler will take on any cargo, legal or otherwise. Smugglers have been able to get past blockades and get things where people needed them the most, sometimes to help a good cause, sometimes just to fill their own pockets.
Class Story
Species
These species can be played as a Smuggler:
Advanced Classes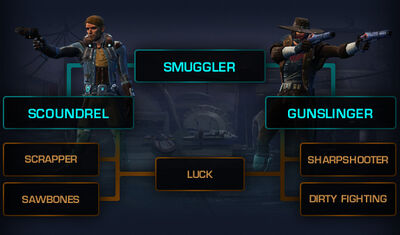 Gunslinger
Gunslinger focuses on ranged combat using dual pistols. The Saboteur skill tree teaches the Gunslinger the usage of explosives and advanced tech, where the Sharpshooter skill tree focuses on precise, high-damage ranged attacks. The shared skill tree Dirty Fighting focuses on using all sorts of dirty tricks to defeat the enemy. All three skill trees focus only on damage, so those seeking to become a healer should choose the Scoundrel path.
The
Scoundrel
The Scoundrel focuses on close- to medium-ranged combat, as well as healing. The Scoundrel can specialize into either Sawbones which focuses on healing or Scrapper which emphasizes stealth and using the scatter gun. The skill tree Dirty Fighting is shared with the Gunslinger and focuses on using all sorts of dirty tricks to defeat the enemy.
Companions
Below is a table showing the companions available to the Smuggler and what gifts they like. "XXX" denotes a favorite gift (major rewards). "XX" denotes a lovable gift (medium reward). "X" denotes a likeable gift (minor rewards). "O" denotes no likeability (no reward).
| | | | | | | |
| --- | --- | --- | --- | --- | --- | --- |
| | | | | | | |
| Gifts | Corso Riggs | C2-N2 | Bowdaar | Risha | Akaavi Spar | Guss Tuno |
| Courting | X** | O | X** | X* | XX* | X** |
| Cultural Artifact | X | XXX | XXX | XX | O | X |
| Imperial Memorabilia | O | O | O | X | X | X |
| Luxury | X | X | XXX | XXX | O | XX |
| Military Gear | XX | O | X | X | XX | O |
| Republic Memorabilia | X | X | O | X | X | X |
| Technology | X | XX | X | XX | X | XX |
| Trophy | X | O | XX | O | XX | X |
| Underworld Goods | O | O | X | XXX | X | XXX |
| Weapon | XXX | O | XX | X | XXX | O |
*(Only after a point in companion story with male Smuggler. Otherwise "O".)
**(Only after a point in companion story with female Smuggler. Otherwise "O".)
Abilities
Smugglers focus on single handed blasters and a clever cover mechanic. Some abilities are only useable from cover, so it is necessary that the player become acquainted with it quickly. All Smugglers are able to deal a good amount of damage, and the Scoundrel class is able to heal, but none of the skill trees provide the ability for a Tank role in group play. The resource for their abilities is Energy. The smuggler starts off with 100 energy and it does not increase naturally (Altough some skills can raise it by a small amount)
Starship
The Corellian XS Stock Light Freighter is a freighter built for speed and to transport cargo securely. It is equipped with a standard laser, torpedo batteries and mounted turrets.
The XS Freighter is one of the fastest ships in the galaxy and featured several ways to secretly store cargo, making it ideal for smugglers.
Armor
Smugglers can utilize light and medium armor, preffering flexible clothing for maximum agility and instead relying on its environnement and the assistance of a group for cover. Their clothing is often heavily customized with modifications and upgrades.
Outfitting
Gallery
External Videos
Sources
External Links