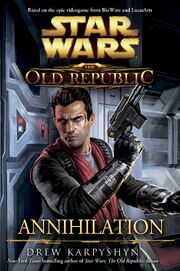 Star Wars: The Old Republic: Annihilation is the third of four novels based on the game Star Wars The Old Republic. Written by Drew Karpyshyn, the hardback was released on November 13 2012 in the United States of America.
Appearances
Characters
Dramatis personae
There are many other planets and locations
Organizations and titles
Sentient species
For information on this subject beyond The Old Republic, see: Star Wars: The Old Republic: Annihilation on Wookieepedia
Ad blocker interference detected!
Wikia is a free-to-use site that makes money from advertising. We have a modified experience for viewers using ad blockers

Wikia is not accessible if you've made further modifications. Remove the custom ad blocker rule(s) and the page will load as expected.