Star Wars: The Old Republic: Fatal Alliance
Talk

0
Share
Ad blocker interference detected!
Wikia is a free-to-use site that makes money from advertising. We have a modified experience for viewers using ad blockers

Wikia is not accessible if you've made further modifications. Remove the custom ad blocker rule(s) and the page will load as expected.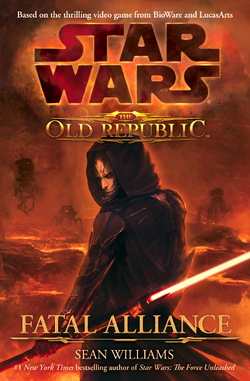 Star Wars: The Old Republic: Fatal Alliance is the first of two novels based on the game. Written by Sean Williams, the hardback was released on 20/7/10 in the United States and 27/7/10 in the United Kingdom.
Appearances
Characters
Dramatis personae
Dao Stryver; warrior (Mandalorian female)
Darth Chratis; Sith Lord (human male)
Eldon Ax; Sith apprentice (human female)
Jet Nebula; captain, Auriga Fire (human male)
Larin Moxla; former Republic trooper (Kiffar female)
Satele Shan; Jedi Grand Master (human female)
Shigar Konshi; Jedi Padawan (Kiffar male)
Ula Vii; Imperial agent (Epicanthix male)
Other characters
Creatures
Droid models
Events
Locations
Organizations and titles
Sentient species