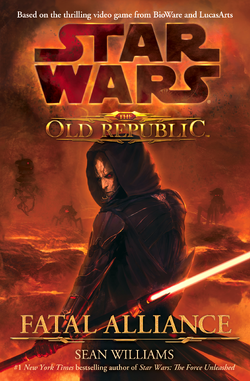 Star Wars: The Old Republic: Fatal Alliance is the first of two novels based on the game. Written by Sean Williams, the hardback was released on 20/7/10 in the United States and 27/7/10 in the United Kingdom.
Appearances
Characters
Dramatis personae
Dao Stryver; warrior (Mandalorian female)
Darth Chratis; Sith Lord (human male)
Eldon Ax; Sith apprentice (human female)
Jet Nebula; captain, Auriga Fire (human male)
Larin Moxla; former Republic trooper (Kiffar female)
Satele Shan; Jedi Grand Master (human female)
Shigar Konshi; Jedi Padawan (Kiffar male)
Ula Vii; Imperial agent (Epicanthix male)
Other characters
Creatures
Droid models
Events
Locations
Organizations and titles
Sentient species
Ad blocker interference detected!
Wikia is a free-to-use site that makes money from advertising. We have a modified experience for viewers using ad blockers

Wikia is not accessible if you've made further modifications. Remove the custom ad blocker rule(s) and the page will load as expected.