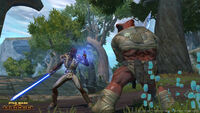 Jedi Knight is one of the two Galactic Republic-aligned force sensitive classes, along with Jedi Consular.
Through years of disciplined training and meditation, the Jedi Knight hones body and mind into perfect harmony. Combining the foresight of the Force with unrivaled reflexes and practiced physical precision, the Knight turns combat into an art form, gracefully executing acrobatic feats in tandem with elegant lightsaber tactics. A source of inspiration to allies and intimidation to adversaries, the Jedi Knight's presence is welcome in any confrontation. The Order's long history of fighting for justice has earned the trust of countless friends and the hate of innumerable enemies. Few, though, are foolish enough to challenge a seasoned Jedi Knight unless they have the skills and technology to even the odds.
There are those who are saying that SWTOR is on the decline. How many years do you think BioWare will continue to keep the servers open?
Create blog post
Blogs
Since the Electronic Entertainment Expo in June, details about the new SWTOR digital expansion have been slow in coming. But information provided by developers since the announcement of this new expansion give players and fans alike a general idea as to just what this expansion will look like. Here…

Read more >

Star Wars: The Old Republic fans have been going crazy over the internet over the course of the last day, after BioWare and EA released the lineup for their upcoming E3 conference, which will be held in Los Angeles, CA on Monday, June 15th. The pages of script pertaining to announcements and other …

Read more >
See more >