Ad blocker interference detected!
Wikia is a free-to-use site that makes money from advertising. We have a modified experience for viewers using ad blockers

Wikia is not accessible if you've made further modifications. Remove the custom ad blocker rule(s) and the page will load as expected.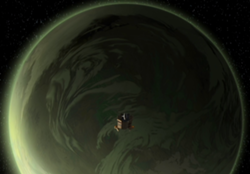 Mid Rim Worlds
---
| | |
| --- | --- |
| Allegiance | |
| Terrain | Variable |
| Native Races | Trandoshans |
Trandosha,
also known as
Dosha
or
Hsskhor
, was the homeworld of the reptilian and warlike
Trandoshan
species. It was located in the same star system as the
Wookiee
homeworld of
Kashyyyk
, a fact that has led to bitter bloodfeuds and other conflicts between the two neighbouring species.
For information on this subject beyond The Old Republic, see: Trandosha on Wookieepedia