Ad blocker interference detected!
Wikia is a free-to-use site that makes money from advertising. We have a modified experience for viewers using ad blockers

Wikia is not accessible if you've made further modifications. Remove the custom ad blocker rule(s) and the page will load as expected.
"I did him an honor. Better he die for his cause than in his bed. Now it's your turn."
―The Lieutenant stating his reasons to the Bounty hunter why he killed Hedarr Soongh
Character

---

[[

|230px]]

| | | |
| --- | --- | --- |
| | Unidentified Mandalorian Lieutenant | |

Species

Gender

Male

Location

Faction

Allegiance

Status

Deceased
The Unidentified Mandalorian Lieutenant was a male Mandalorian who chose to follow the disgrace Mandalorian Tarro Blood to gain fame in Great Hunt during the Cold War. Even when the Bounty Hunter defeated Sedyn Kyne in a Taung Blood Duel, he disobey Hedarr Soongh and shot him in chest, ultimately killing him, the Bounty Hunter killed him and his men in rage.
Equipment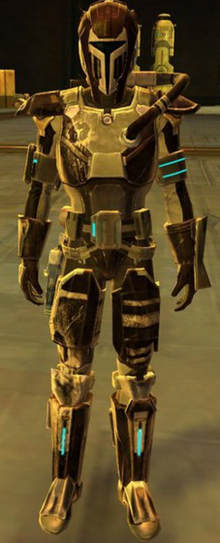 The Lieutenant wore a set of Mandalorian Seeker armor used a Blaster Pistol.
Appearance