Ad blocker interference detected!
Wikia is a free-to-use site that makes money from advertising. We have a modified experience for viewers using ad blockers

Wikia is not accessible if you've made further modifications. Remove the custom ad blocker rule(s) and the page will load as expected.
The newest edition to the planets (that now total 16) is the artic world of Ilum that is now under annexation by the Sith Empire's large assault force against thinly spread Republic Troops.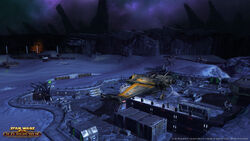 "With the final outcome of the war between the Sith Empire and the Galactic Republic still undecided, the icy planet Ilum sits squarely in the cross-hairs. The crystals that grow here in abundance are the source of incredible power and possibility. Jedi and Sith alike have long sought them for their Lightsabers, but the ramifications may go much deeper. Recently the Empire launched a major assault against the Jedi on Ilum, destroyed the Order's sanctuaries, and initiated an ambitious operation of unknown intent. With its forces already spread thin, the Republic has been unable to strike back in such a remote region, but what price might they pay for losing this valuable resource?" (source)