I went to PAX East today and I took some videos! :D
This was a Companion glitch I noticed. Is this going to be added, and is it not a glitch? Idk.
This is a video of what happens when you are in the queue for Warzones. And for a bit of a background on 1.2, the warzones will be in "pre-season". This means that there will be no cross-server Warzones yet, but as stated on the queue, season one will have cross-server.
This was the Retro UI setting.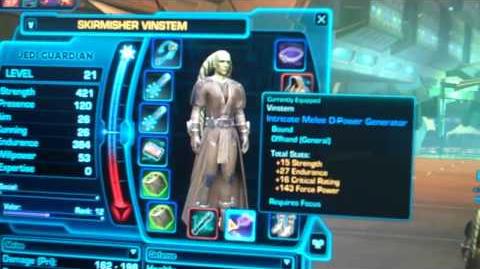 This was the gear that my Jedi had on. He came fully equipped and level 20, so that was pretty cool.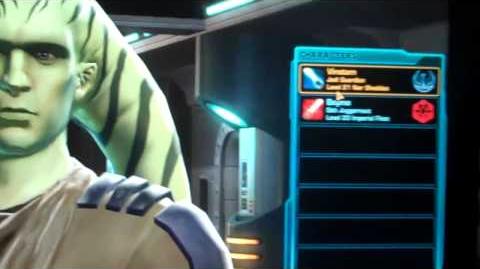 This was the login screen of SWTOR. The server was "TOR Demo" and it was the only server that you could select. It came with two level 20s, and I leveled one of them up to 21. Just to get the Bioware people mad [Because everyone HAD to be level 20 xD].
This was a video of me looking through the PvP vendors and using the UI Customization.
Novare Coast
So, I was lucky enough to join in on a round of Novare Coast. I'll go through the map with you. One thing to note; I was Republic, so I don't know exactly about how it goes for the Empire. You start out in a base, on a catwalk. You jump down, land on an elevator, and jump to the ground. From there you leave and head out into the main part of the map. It's the biggest Warzone I have seen; lots of open space and hills, making it perfect for Imperial Agent Snipers. The objectives are in small shacks, and are a source of conflict. During our match, most people would camp at the objectives that they already owned; not many went over to attack the others. I saw a good 3+ people at one of their own objectives. Snipers have the advantage, the hills and trees provide great cover and perfect places to launch an attack at. The round, altogether, took a good 30 minutes. This tells me that it takes a long time to complete the objectives, and this is absolutely awesome. A couple more Codex's were added, too. Sadly I did not get a video, but I saw someone else did. Look around for it on Youtube, I'm sure it will pop up somewhere. Let's talk about how it is for Jedi/anyone who uses a lightsaber. Close range interactions will happen alot. Your best friend here would be the Force Leap, as many people don't notice eachother with the numerous amounts of cover. You'll know where the action is once you begin because there are tons of people camping at their objectives, so always be prepared. And for Snipers, cover is your best friend here, and the element of surprise.
Ad blocker interference detected!
Wikia is a free-to-use site that makes money from advertising. We have a modified experience for viewers using ad blockers

Wikia is not accessible if you've made further modifications. Remove the custom ad blocker rule(s) and the page will load as expected.