Hello, Wikians!
I've been browsing Wikia recently seeing that lots of people aren't liking the new editor all that much. Wikia added this feature a few months back, beginning with Community Central. 
They also added a feature for all administrators that would allow us to enable the editor across our respective Wikis. Ours is currenly disabled, but Wikia added something that would alllow us to use it anyway (with or without our approval). I actually had someone who asked me about it, and we figured out how to reset it back to it's classic visual/source mode editing like the image below.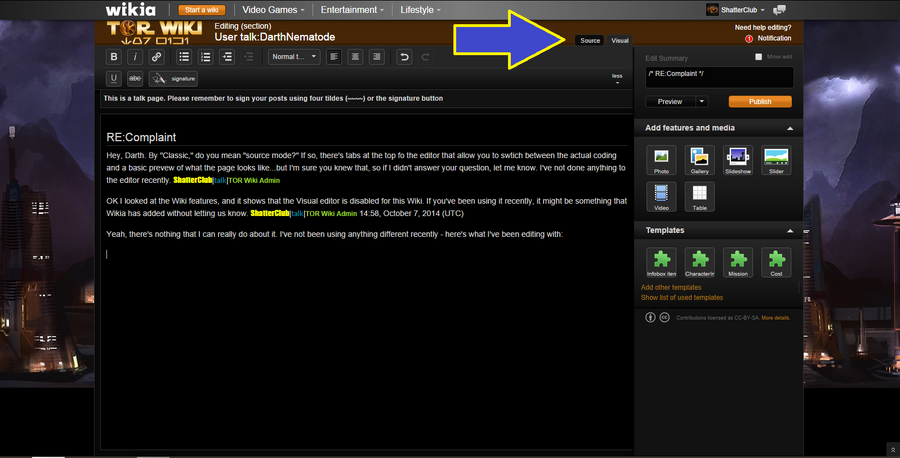 HOW TO RESET:
Hover your courser over your username in the top right.
Click on "My preferences" on the drop-down list.
Click the "Editing" tab at the top of the settings list.
Click on the "Preferred Editor" drop-down list under "Editing Experience" and select the "Wikia's classic rich-text editor (where avalible)" option
Scroll down and click the "Save" button at the bottom to save your preferences.
If anyone else is annoyed by this feature, then I hope that this helped you out. If you actually like the new editor, then please don't let me stop you from using it.
Good Hunting!
Jacob
Ad blocker interference detected!
Wikia is a free-to-use site that makes money from advertising. We have a modified experience for viewers using ad blockers

Wikia is not accessible if you've made further modifications. Remove the custom ad blocker rule(s) and the page will load as expected.