So yes, just to clarify before we start, this is an actual promotion. In no way could I be making this up.
During the Star Wars: The Old Republic developer livestream last night, Eric Musco was joined by Ben Irving, Lead Producer of the game, to talk about their plans for what future and what players (especially subscribers) can expect from the game in the near future. They even had their plan laid out and shown before they dived into those topics, and because they were already in order, that makes my job easy.
State of the Galaxy
The two kicked off the stream by thanking players (repeatedly) for their feedback on Fallen Empire, and said that BioWare is so happy that players find the expansion to be so appealing. They highlighted several people's comments and thought about the new content.
KotFE: Chapter X: Anarchy in Paradise
Players can expect the newest part of the expansion to drop on Feburary 11th, 2016. Quite a long wait for new content. You will essentially be waiting three months from now to get a half-hour's worth of new story. And then another month's wait after that for yet another half-hour (or less, possibly).
Players will unite (or reunite, if you play as an Imperial Agent) with Kaliyo Djannis, now known five years later as the Firebrand. Players have known this for a long while, as clicking on the next chapter's mission in their mission log shows her face along with the words "COMING SOON." They showed a short teaser of the new chapter, which was literally just Kaliyo pointing a gun at the Outlander and speaking one sentence. 
Players also get to unite (or reunite) with Bowdaar, while fighting in arena battles in the lower levels of Zakuul. This is a new solo game mode where you kill as many enemies as you can before being defeated yourself. The more enemies you defeat, the more influence you gain with Bowdaar.
This is apparently a chapter that is going to matter a heck of a lot based upon the decisions you make/have made in the past. Chapter X is where those choices come to light and you either reap the rewards or experience the fallout. There will be at least one choice that you make in this chapter that will come up again in later chapters as well.
New Subscriber Rewards
Musco and Irving laid out two new subscriber rewards, both of which revolve around HK-55.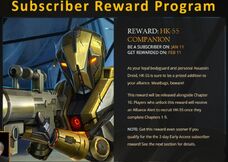 HK as a permanent companion
If you have played along in the story enough, then you know that HK-55 is destroyed during a battle with Arcann, after having been your companion and participated in the story previously several times. Subscribers by January 11th will receive HK-55 as a permanent companion despite the storyline when Chapter X launches on Feburary 11th. 
Play as HK - Exclusive Chapter
A more long-term subscriber money-sap, players who are subscribed from January 11th all the way to August 1st (the date that the last
chapter may be released on) will get the opportunity to play an exclusive chapter where they play through the mission 
as HK-55.
 You don't play as your Outlander character - oh, no, you actually get to play as the lovable Hunter-Killer droid itself. Irving said that this was something that BioWare has been working on for quite some time, and really wants to be able to give something back to the "most loyal subscribers in the game." No exact details yet, other than that it's only available to people who subscribe long enough.
Subscriber Early Access
Early Access for Chapter X is also available to players to players who are subscribed by the 11th. Access opens for qualifying players on Feburary 9th.
December Events
The stream also highlighted other events that would take place before the end of the year. The exact dates for the events were released in a blog post the day after the stream.
Event Dates
Relics of the Gree: Dec. 8 - Dec. 15th
4th Anniversary Rewards: Dec. 8th - Jan. 5th
Rakghoul Plague: Dec. 15th - Dec. 22nd
Life Day: Dec. 15th - Jan. 5th
Double XP: Dec. 18th - Jan. 1st
Bounty Contract Week: Dec. 22nd - Dec. 29th
4th Anniversary Rewards
Players who log in from Dec. 8th to Jan. 5th will receive, at the very minimum, an HK-47 statue decoration similar to other statues released in Cartel Packs. More of these rewards will be made clear as time goes on.
What do you think of these highlights? Is BioWare's new direction with Fallen Empire one that you are happy with? Or are you infuriated because you're waiting so long for content you're staying subscribed for? Let us know by posting a comment!
SUBSCRIBE NOW TO GET ACCESS TO KNIGHTS OF THE FALLEN EMPIRE AND GET SUBSCRIBER REWARDS!
Ad blocker interference detected!
Wikia is a free-to-use site that makes money from advertising. We have a modified experience for viewers using ad blockers

Wikia is not accessible if you've made further modifications. Remove the custom ad blocker rule(s) and the page will load as expected.