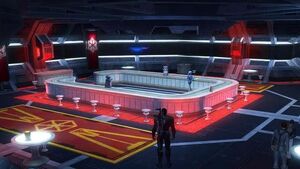 Located at the center of the Vaiken Spacedock. The Cantina includes a second level accessible by automated lifs for those who possess a [VIP Lounge Wristband] which is purchasable from either cantina vendor or available as part of the Collector's Edition.
Personnel
Cantina Vendor (4)
Bartendor, selling
VIP Goods Vendor
Baron Lorn (Upper Level), selling
Collector's Edition Vendor
Stims Vendor
Private Leen, selling
Entertainment
The cantina has a jukebox which can be operated by Jukebox Token purchased from the Cantina Vendor. The selections available:
Ad blocker interference detected!
Wikia is a free-to-use site that makes money from advertising. We have a modified experience for viewers using ad blockers

Wikia is not accessible if you've made further modifications. Remove the custom ad blocker rule(s) and the page will load as expected.