Character

---

Species

Gender

Male

Location

Faction

Allegiance

Level

49
Xev was a male Houk Mandalorian Mercenary who lived during the Galactic War. He worked with Grud as part of a bounty hunter team working for the Sith Empire sent to kill Green Jedi forces on Corellia. Xev and Grud were the only ones able to make back to Imperial base camp alive.
Equipment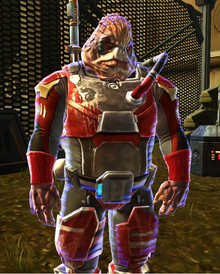 Xev had worn a red set of Mandalorian armor and a vibrosword.
Appearances
External Links
Ad blocker interference detected!
Wikia is a free-to-use site that makes money from advertising. We have a modified experience for viewers using ad blockers

Wikia is not accessible if you've made further modifications. Remove the custom ad blocker rule(s) and the page will load as expected.